The last few weeks have seen major US financial institutions actively jumping onto the Bitcoin bandwagon. Once fierce critics of the asset, traditional finance has been slowly warming up to Bitcoin amidst increasing demand from their investors and are now actively pursuing ways to provide access to Bitcoin through exchange-traded funds (ETFs) and other means.
The excitement started with the world's largest asset manager, BlackRock filing for a Bitcoin spot ETF who were then joined by several other prominent institutions, including Fidelity, JP Morgan, Morgan Stanley, Goldman Sachs, BNY Mellon, Invesco, and Bank of America, who have all signalled their intentions to venture into the Bitcoin ecosystem.

Together, these institutions manage an astounding $23 trillion in assets under management, underscoring their serious commitment to providing clients with exposure to Bitcoin.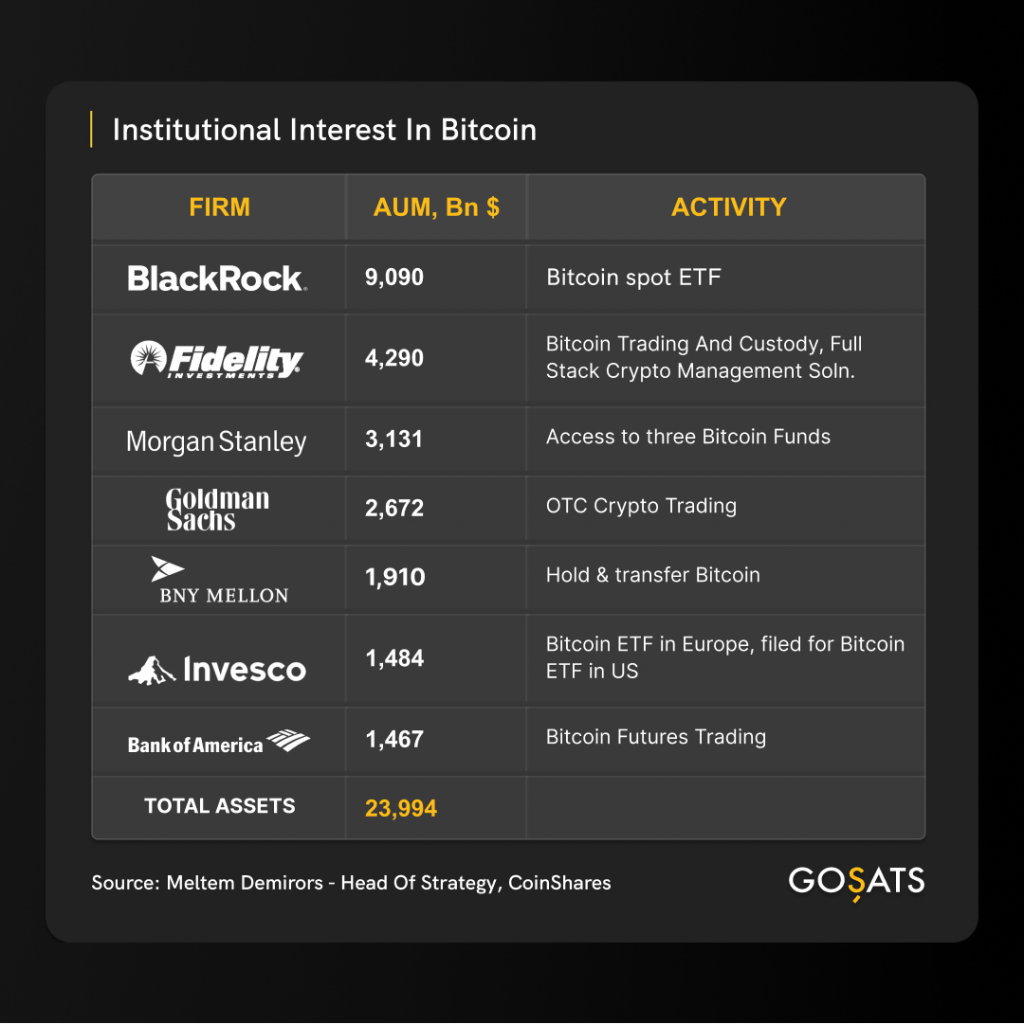 Institutional interest in the sector dried up after the collapse of major players like FTX and the "crypto winter" of 2022.
While most altcoins failed to recover, Bitcoin not just weathered the crypto winter, but also recovered more than half of its price decline during the bear market, largely thanks to the continued interest of institutional investors in the asset. In fact, one could say that the recovery was sparked by institutional inflows, with the likes of MicroStrategy and Tesla, and multiple other publicly-listed companies adding Bitcoin to their balance sheet.
Although the institutions' entry into the world of Bitcoin is not yet a wave, it is steadily gaining momentum.
Bitcoin's current market capitalization stands at a modest $600 billion, highlighting the immense potential for growth when compared to the vast sums managed by financial institutions. Even if just 1% of the $23 trillion managed by these institutions seeks to invest in Bitcoin, it could have a profound impact on the market, especially considering that a significant portion of the available supply has been taken off exchanges since 2020.

The scarcity of Bitcoin brings with it the high likelihood of driving a price surge as retail traders and institutional giants rush to add to their Bitcoin portfolios. Undoubtedly, the future of finance is being reshaped, and institutions are paving the way for a more inclusive and vibrant ecosystem.

Make sure to keep stacking Bitcoin every chance you get, so you don't miss out on what lies ahead!