Thank you for your interest in the GoSats Bitcoin Card, the first of it's kind in India.

We've been receiving a lot of queries from all of our users on the card. Here's a compilation of the most frequently-asked questions.
1. What is the GoSats card and how does it work?
A: The GoSats Card is a prepaid card that enables you to earn Bitcoin rewards seamlessly on your transactions – whether that be for your shopping or your monthly payments. To put it very simply, spend INR and earn Bitcoin on your transactions.
Since it is a prepaid card, it will need to be topped up via the app before it can be used. The card can be used both for online as well as offline transactions across any PoS device in India.
Please note that Bitcoin rewards can be earned only on spends above Rs200.
2. How can the card be topped up?
A: The card can be topped up easily through the GoSats app. We support all types of payments to load the card.
3. What are the load and spend limits on the GoSats Card?
A: The load and spend limits on the GoSats Card once an user completes VKYC are as follows:
Daily – Rs10 lakhs
Monthly – Rs 10 lakhs
Yearly – Rs30 lakhs

At a time, an amount of Rs 2 lakhs can be loaded and spent with the card.

If a user has only completed min KYC, the load and spend limits on the card will be Rs10,000 per month.
4. What are the fees and benefits of the card?
A: We currently have 2 types of Bitcoin Cards: Intro and Elite.
The Elite Card comes with an annual fee of Rs.999, 1.5% cashback on all spends (above Rs 200) as well as a deposit bonus of Rs.250.
The Intro Card comes with a one-time fee of Rs.499, 0.5% cashback on all spends (above Rs 200) and a deposit bonus of Rs.100.

Here's a list of some other features: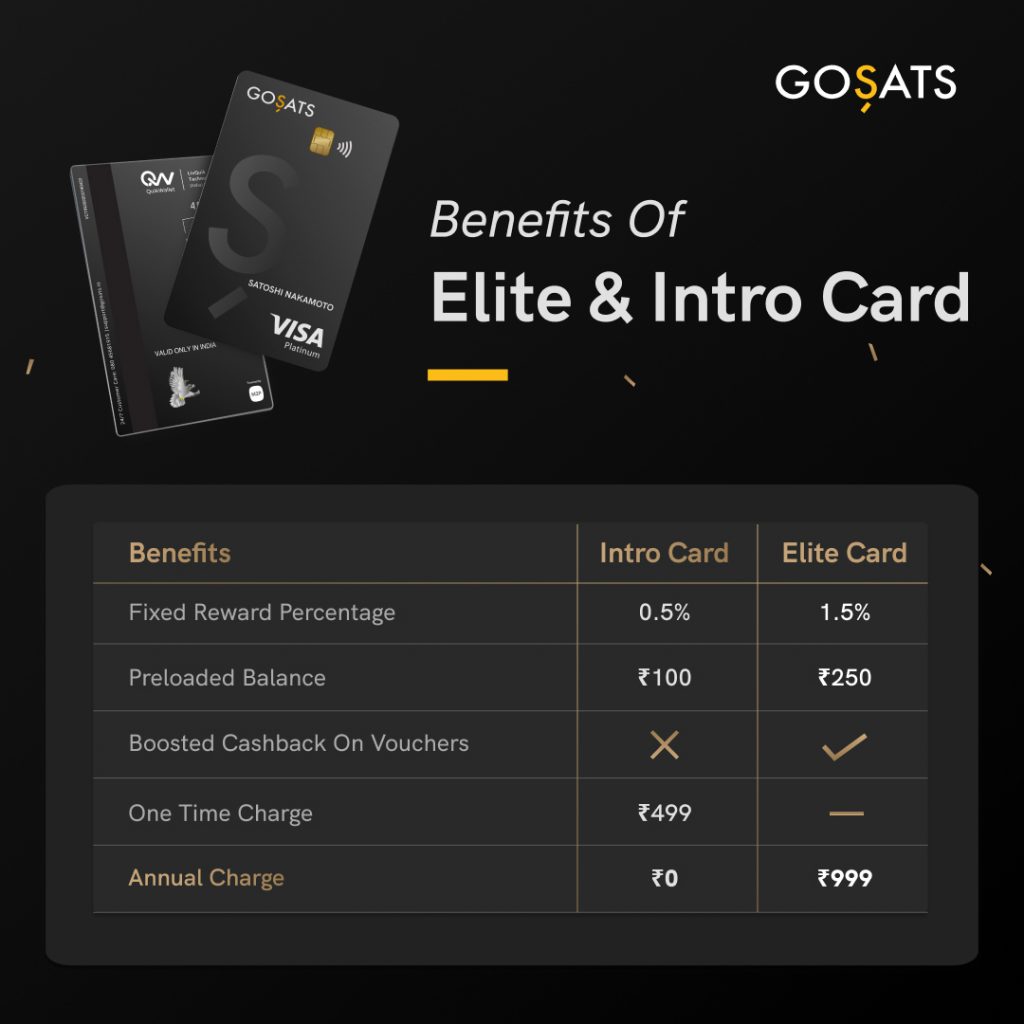 5. I have completed booking. When will I get my card?
A: Once you have completed the payment for the card, the virtual card is enabled instantly. Using this, users can make online transactions and stack Bitcoin.

Once you complete VKYC, the physical card is then dispatched within 15 days.
6. What is the preloaded balance?
A: As soon as the Card is activated, users will receive a preloaded balance on their card of Rs.100 for the Intro Card and Rs.250 for the Elite Card.
7. What documents are required to complete KYC?
A: The following documents/identity cards can be used to complete your KYC process on GoSats:
For Min KYC – Drivers license/Passport/Voter id/PAN Card
For VKYC – Pan and Aadhar Card
8. Can we make international transactions with the GoSats card?
A: Unfortunately, no. The GoSats Bitcoin Rewards cards can only be used in India.
9. Are ATM withdrawals possible? Are there any charges?
A: Yes, ATM withdrawals are possible with the GoSats Card. A fee of Rs25 will be charged per transaction.
Please note that VKYC needs to be completed to enable ATM withdrawals

The following limits also apply to ATM withdrawals:
Max amount per transaction: Rs 2000
Max amount in a 30-day period: Rs 10,000

Book your card now!

We hope this answers most of your queries surrounding the card. If you still have any doubts, feel free to get in touch with our in-app support.