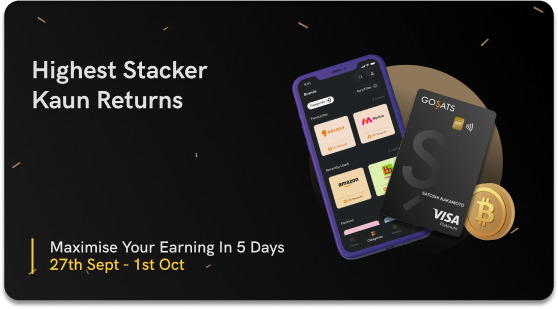 Get ready to embark on an exciting 5-day journey of rewards and achievements with our "Highest Stacker Kaun" returns on user demand!
Earn 5% Rewards – During these 5 days, every swipe of your GoSats card brings you closer to amazing rewards. Earn a whopping 5% cash back, and the best part – it's capped at a generous Rs 5000!
2x Rewards on Vouchers – Take your rewards game to the next level with uncapped 2x rewards on voucher purchases. Whether it's your favourite brand or a new discovery, the more you explore, the more you earn.
Extra INR on UPI Load: Get 0.5% extra INR rewards – Boost your stack even further by loading your GoSats account with UPI. You'll receive an extra 0.5% INR rewards, with a potential bonus of up to Rs 50 for a load of Rs 10,000!
Top 3 highest stacker get 5L, 3L & 1 L Sats – Reach for the stars and aim high because the top 3 Highest Stackers over these 5 days will each receive a whopping bonanza of 5 Lakhs, 3 Lakhs and 1 Lakh Sats! It's your chance to shine and claim the ultimate reward.
Mark your calendars for 27th Sep to 1st Oct because you wouldn't want to miss this opportunity to maximise your earnings and become the "Highest Stacker Kaun." Are you ready to stack up the rewards and aim for the top spot? We're excited to see you in action during this incredible 5-day campaign.

Note : Flat 5% Bitcoin rewards apply on all Elite card transactions other than the following:
– Bill/Utility Payments
– Digital Wallet Loads
– Real Estate Payments
– Government services
– Telecommunications
– Insurance
– Quasi Cash
– Fuel Payments &
– Education