Free Bitcoin for everyone! Want some?
There have been numerous shady projects and clickbait articles that have taken advantage of this statement over the past years, why they do it?
To get lots of people to click on their link and generate ad revenue! Because who doesn't want free Bitcoin?!
Yes, there were many Bitcoin Faucets available in the earlier days of Bitcoin when its price was lower and transaction fees were negligible. (Faucets are websites where you get some free satoshis to take certain actions like clicking on Ads or gambling)
But most faucets are not recommended for an average user as they are either too shady on inconvenient for the most part.
And yes Bitcoin mining was a viable way of earning bitcoin back when you could mine from your laptop or a GPU, but not in 2021 where you would have to invest a lot of money in equipment and electricity to mine any Bitcoin.
So are you telling me that it is impossible to earn Bitcoin? Of course not!
Enter Satsback – How we make Free Bitcoin possible
What if I told you that you could earn Free Bitcoin rewards every time you buy a mobile phone from Flipkart or buy groceries from BigBasket or buy a pair of sneakers from Adidas.
Cashbacks in India have taken off like an ISRO rocket ever since E-commerce took adoption, people are more inclined to purchase on brands if there is some form of a cashback or a reward system.
So why get Cashbacks in INR or points when you can get in the form of the best-performing asset in the last decade – Bitcoin!
This is the core idea behind what we have built at GoSats, we have figured out a way to get Bitcoin into the hands of people without having them invest their hard-earned money or do shady things on the internet.
You shop online. Earn bitcoin. As simple as that!
How does it work?
You signup on the GoSats app
You shop on any of the 25+ brands we have on our platform including Flipkart, Swiggy, Mama Earth, Dominos, Adidas, One Plus, Tata Cliq, ClearTrip, etc through our in-app browser.
GoSats Homepage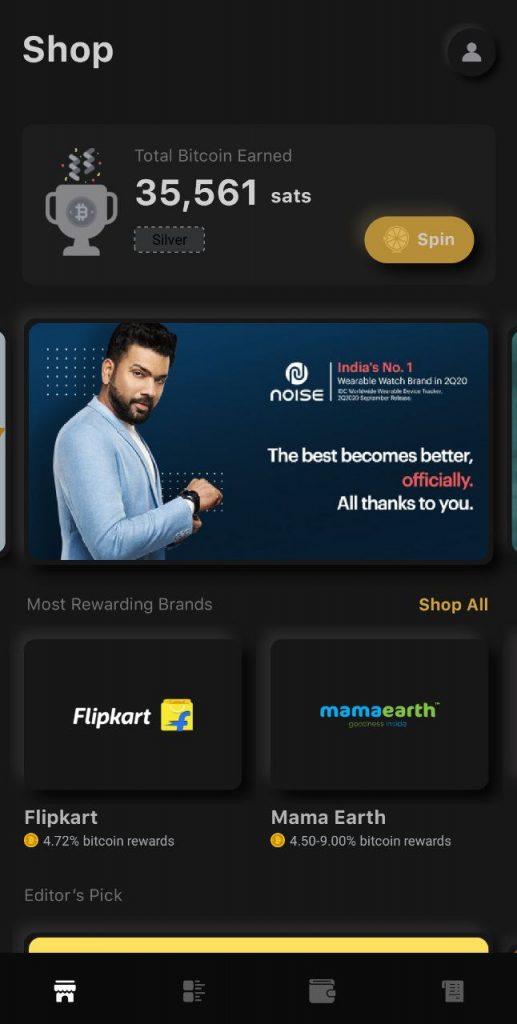 Flipkart Brand section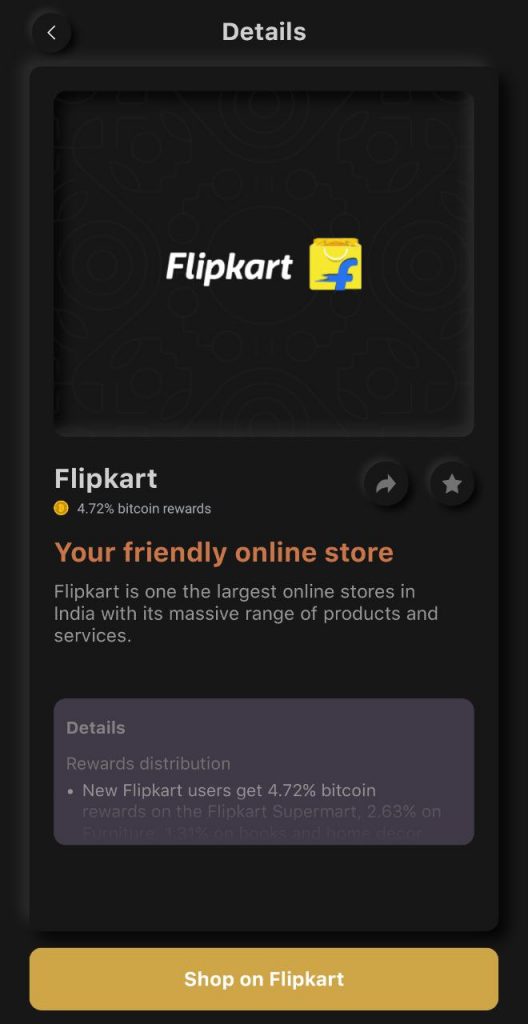 Vallah! You get a percentage of the total sale amount back in the form of Bitcoin rewards on your GoSats Wallet.
Transaction history page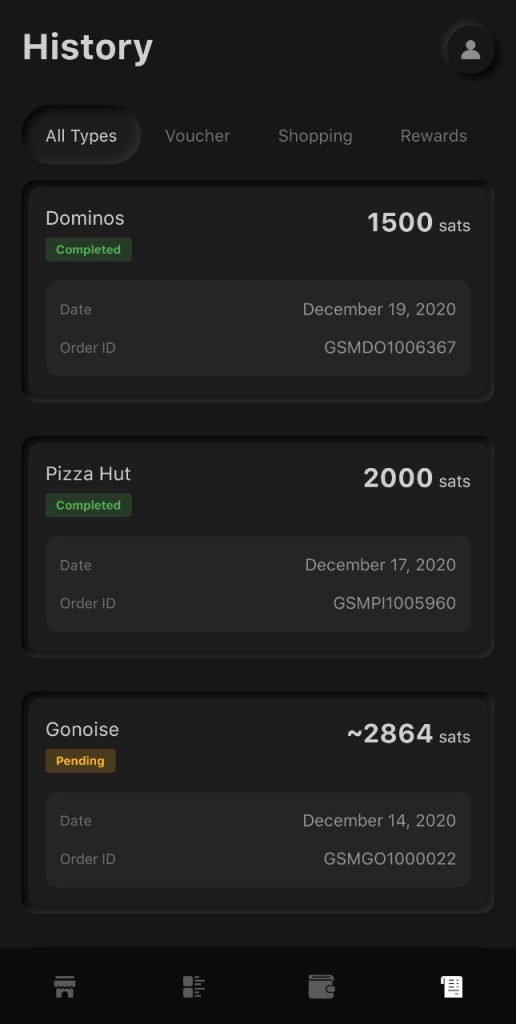 So where do you get the Bitcoin from?!
The brands on our platform already have what is called as affiliate programs where they pay us a commission for bringing them customers and sales. We take that commission, convert it into Bitcoin and pass it on to the users wallet.
Our upcoming features that are going to excite you even more!
Brand vouchers/Gift cards – We will be introducing brand vouchers/gift cards of major brands including Uber, Starbucks, Grofers, BookMyShow, etc on our app where you will get INSTANT BITCOIN REWARDS every time you make a voucher purchase.
Take a sneak peak of the feature:
The Bitcoin wheel – All GoSats users will be able to spin the Bitcoin wheel and win extra Bitcoin everyday.
Bitcoin rewards Card – We are also working on launching a Bitcoin rewards card where you will be able to earn Bitcoin back on every swipe!
You can download the GoSats App HERE.
Follow us on Twitter
Join our telegram community HERE.
Join our Whatsapp community HERE.